Tag Archives: Thomas Atum O'Kane
by Thomas Atum O'Kane
This past Easter I was in Bhutan surrounded by incredible sacred Buddhist images and blessed by the people who radiate an atmosphere of loving kindness. Still my heart remembered the vision of Christ I saw in Brasillia, the capital of Brazil, some years ago. St Teresa of Avilla was deeply awakened to her mystical path by passing a familiar statue of Christ on the cross. One day, the statue came alive for her and revealed the profound depths of forgiveness. For me it was a cross with a life-size Christ made out of dark brown wood. As I looked at the face a door opened for me revealing the global suffering of brown- skinned people from discrimination, diminishment and poverty. As a concept I was aware of the plight of brown-skinned people but now it became a reality of the heart.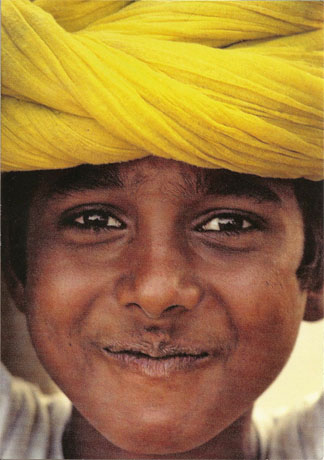 At age 17 my daughter Rose accompanied me on a pilgrimage to India. Soon after we arrived in Verinasi, the center of the Hindu world, a girl about ten began to follow Rose everywhere. After several days the wide-eyed girl asked Rose if she was a movie star. Rose smiled and said, "No, why do you think so?" The girl responded, "Because you are so beautiful and your skin is so light, just like the movie stars." The conversation mirrored one I heard in the late sixties at a poor urban middle school in America. Both the Indian and Afro-American girls felt at a young age that they did not meet the cultural image of feminine beauty and success. No matter how much Rose and I tried to reflect their radiance and beauty, they had already internalized the negative judgment with accompanying limitations. To question the validity of such assumptions had painfully never occurred to them since the projections were constantly and consistently mirrored into them.
In Bankok, Thailand, there are three upscale malls in a row. Almost all the stores have American and European expensive brands. In one there is the most amazing food court and store with delicious things from all over the world. While eating I noticed all most all of the shoppers and diners were light-skinned Asians. I mentioned this to my son Emanuel. He was not surprised. This was in sharp contrast to those who do manual labor or drive taxies and tuck-tucks. The latter almost always migrate to the city to support their families living in rural and farming areas. Having spent the last 16 months in Asia, Emmanuel noted how difficult it is to try any skin product in India that does not automatically have whitener in it. Bangkok is filled with signs for dentist who will whiten your teeth.
In Mexico I have listened to a repeated conversation with several people. They comment on the light color of my skin in comparison to their darker brown tone. When I try to explain that many light skinned tourists have spent a lot on money to have skin like theirs, it goes completely unheard. The conditioning is so strong. In Mexico skin color is also reflective of class, like so many other countries. Even describing brothers and sisters a separation has been made between the lighter ones and the darker relatives. What makes it all the more painful is the speaker is usually completely unaware of how they have internalized this prejudice and devalued themselves and others like them.
Thomas Atum O'Kane, PhD, a longstanding and well-loved presenter at Hollyhock, is a graduate of the Guild for Spiritual Guidance. He holds a MA in psychological counseling and a PhD in transpersonal psychology. Atum has been a senior teacher in the Sufi Order International, where he served as secretary general for 12 years. He leads workshops, retreats, and pilgrimages in North America, Europe and the Holy Lands. 

Thomas will be at Hollyhock on Cortes Island:
July 7-12, 2013 presenting Time of Transition
July 12 – 17, 2013 for The Seven Valleys is the Soul's Journey
Oct 18-23, 2013 for The Art of Spiritual Guidance (two-year program)
by Thomas Atum O'Kane via atumokane.com
For several months I have heard this phrase in my meditations, dreams, and spontaneously throughout the day.  In this past year my calling has taken me to North and South America, Europe and Asia, and the Middle East.  The story of the world now is a planet in transition, trying to give birth to a greater consciousness.  Everywhere there is liminality, the "in-between  time," when the identities,  forms and myths that embodied the previous paradigms are dying, while the ones that will embody the new consciousness have not been fully envisioned or manifested.
In our personal lives times of great transition are marked by deep uncertainly, fear, anger, grief, disillusionment, even despair. This can be balanced by the sense of a new calling filled with possibilities, hope, growth, dreams, expansion and a revivified life.  During such passages we are asked to wait, listen, and stay connected to our soul while not clinging to the old identity or grasping onto a premature way of escaping. Imagine this condition magnified billions of times throughout the planet.
(…)
In this era of enormous polarization, uncertainty, fear and anger, the center must hold or we shall fall into chaos rather than emerge into planetary consciousness. There is real danger from those who feed the fires of polarization, especially the ones who have no mature sense of the destruction they can unleash. Those who claim with absolute certainty that they know the way are the ones who can lead us blindly into an abyss.
Carl Jung warned of the destruction that occurs when a group of people becomes possessed by an emotion and they lose their individual consciousness. What was Yugoslavia is a prime example of how the rather recent layers of more civilized consciousness can revert to a more primitive, tribal mentality. I was in Mexico during the N1H1 flu and personally witnessed Jung's warnings, as the media drew the world into the possession of collective fear within days.
Given what is occurring throughout humanity we should not be surprised to find these conditions mirrored in our lives and all around us. It is a naïve form of specialness to expect that because we are on a personal spiritual journey that we will not be affected by the state of the planet in crisis. The great gift of spirituality is that it offers us, through various traditions, a body of proven teaching and practices that will aid us in holding our own center.
Hazrat Inayat Kahn noted that the condition of humanity at any time is a refection of its consciousness. Enough people must be able to hold their own center in this turbulent time so collectively we can hold the center for humanity.
Read full article here.
Thomas Atum O'Kane, PhD, a longstanding and well-loved presenter at Hollyhock, is a graduate of the Guild for Spiritual Guidance. He holds a MA in psychological counseling and a PhD in transpersonal psychology. Atum has been a senior teacher in the Sufi Order International, where he served as secretary general for 12 years. He leads workshops, retreats, and pilgrimages in North America, Europe and the Holy Lands. atumokane.com
Thomas will be at Hollyhock on Cortes Island:
July 7-12, 2013 presenting Time of Transition
July 12 – 17, 2013 for The Seven Valleys is the Soul's Journey
Oct 18-23, 2013 for The Art of Spiritual Guidance (two-year program)