By Rebeka & Tec from the Hollyhock Kitchen
We at the Hollyhock kitchen really
like this recipe, as these are ingredients that we are presently using in our kitchen to feed approx. 60 people, 3 meals per day.  This is a yummy lunch or dinner side dish or salad.
There are so many wonderful varieties of apples and hard/fall squashes available at this time from our gardens, local Farmers' markets, and conventional stores.

At this time we are harvesting Gravensteins, King and an unknown variety we call Pe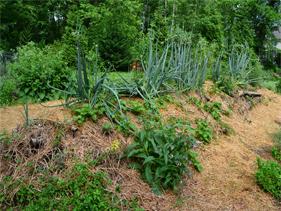 go's apples from the apple trees by the ocean and near our lodge.  We are additionally using big beautiful jumbo banana squash from our garden grown on the Hugels (see picture).
You can easily vary the cheese you use in this recipe, we generally have goat cheese on hand. Blue cheese would be lovely, a Silton or a Gorgonzola.
The greens can be of any variety you may be harvesting or find at the market. We have copious greens at this time from our amazing Hollyhock Gardeners, Holly, Dana, and Glenna! When we have the opportunity to read our guests comments they overwhelmingly rave about our garden. It is truly the highlight and heart of our operation! We are so blessed to have this resource!
Happy Dining,
Rebeka & Tec
Ingredients
Dressing:
2 tablespoons balsamic vinegar
2 tablespoons fresh lemon juice
6 tablespoons extra-virgin olive oil
1 tablespoon slivered fresh sage
Salad:
Olive oil
1/4 cup balsamic vinegar
2 teaspoons (packed) dark brown sugar
4 lb butternut squash, peeled, halved lengthwise, seeded
Coarse kosher salt
2 heads of frissee endive or other greens. Rinse and roughly tear.
2 unpeeled local apples, halved, cored, cut into large wedges
8 ounces goat cheese, coarsely crumbled
1/2 cup dried cranberries
Preparation
For dressing:
Whisk vinegar and lemon juice in small bowl; gradually whisk in oil. Season with salt and pepper.

For salad:
Preheat oven to 350°F. Brush 2 large rimmed baking sheets with oil. Whisk vinegar and sugar in small bowl; set aside. Cut squash halves crosswise into 1/4-inch-thick slices. Toss squash and apples with sugar and vinegar mixture, and olive oil. Arrange squash and apples in single layer on prepared sheets. Roast until squash is tender when pierced with small knife, about 15-25 minutes. Cool on sheets and let stand at room temperature. Gently toss greens, butternut squash, and apples together, scatter cheese, and cranberries over the top and drizzle with dressing. 

Feel free to sprinkle w/pumpkin seeds or roast nuts for an added garnish! 

 Serve with a fall soup and/or a nice crusty bread.